X-Ray vision. Telepathy. Telekinesis. These are the powers that have captured much childhood–and adult–imaginations since the first Superman comic book hit store shelves in 1938. Who hasn't dreamed of being a superhero? Thanks to advancements in wearable technology, we might all have our chance.
Back in 2015 wearable technologies, or "wearables", hit the consumer market in a full-on assault led by tech giants such as Google, Apple, and Samsung. These tech giants bet big on fast consumer adoption resulting in record-breaking profits. . .and they lost. Then, something interesting happened that is rarely seen in the world of tech: enterprises began adopting technologies originally intended for consumers on a massive scale thereby keeping the market for the erstwhile "game-changing technology" alive.
DHL began incorporating smart glasses in the warehouse to speed up the process of picking orders, Quebec City International Airport equipped their duty managers with Apple Watches enabling them to receive real-time operational alerts with a quick glance at their wrist so that they can make better decisions and decrease delays, Buffalo Wings & Rings restaurant put the new Samsung Gear S3 to work notifying servers when customers need attention without requiring the use of their hands and shaving critical minutes off of the table-to-check cycle which boosts turnover and revenue.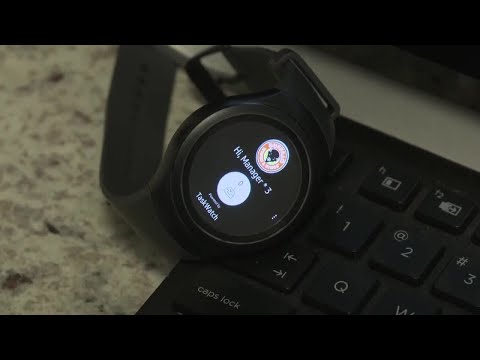 The thing is, wearables solve a problem more critical to the enterprise than to the individual consumer: it multiplies the capability and productivity of a worker while keeping his or her hands-free. In essence, wearable technology gives workers an extra set of hands. In the case of Buffalo Wings & Rings, this means that servers are notified the moment that a new table is seated and immediately when service is needed. This translates to faster turn-around time on tables and, when boosting sales each night by 10-20% is the result, it's pretty significant.
The use of wearables in the enterprise uncovers the potential to take leaps in productivity the likes of which have not been seen since the industrial revolution. Imagine equipping construction workers with smart glasses that allow them to see inside walls or underground so they can locate existing utilities or using smartwatches on knowledge workers to detect when they are at their desk (and therefore available for calls) or when they are becoming stressed or losing the ability to pay attention in a meeting which has carried on for too long.
Wearable technology is going to be the most popular trend in enterprises over the next couple of years with sales expected to reach $53.2 billion by 2019. This technology has many different workplace benefits and plenty of options available to suit the individual use-cases of almost any enterprise. In addition to smartwatches and glasses, smart clothing is now emerging. In March 2017, Levi's and Google announced a partnership to develop a smart jacket that allows its owner to interact via gestures such as brushing a hand on a sleeve. This may sound silly at first glance, but imagine a field worker, soldier, firefighter, or any other type of worker who is wearing bulky clothing and possibly gloves that make interacting with a tablet difficult–to them, it's not so silly of an idea.
Wearables also can collect myriad biometrics from their users which may or may not be the subject of privacy debate in your enterprise. Assuming that your employees are willing to grant access to their personal biometric data, there are many interesting insights that may come from it such as levels of stress and fatigue, including stress when in proximity to another specific worker.
Wearable technology indeed has the ability to grant superpowers to workers of all types in your enterprise. Your only limitation is your imagination (and ours if you hire us) but one thing is for certain: you will need a great technology consultant and application developer to make your vision become a reality and we want to be the consultant that helps you become a superhero in your enterprise.
PRO TIP: Begin integrating wearable technology into your enterprise by identifying tasks that require employees to use their hands while at the same time requiring them to refer to various data sources. Whenever you find a situation like this, there is almost certainly a solution that can be provided by the use of wearable technology.
Please contact us today to learn more about wearable technology and how it can be used at your enterprise.
https://polyrific.com/wp-content/uploads/2022/11/19.png
303
486
matt.cashatt@polyrific.com
https://polyrific.com/wp-content/uploads/2022/06/Cloud-Hosting-Software-Engineering-Polyrific-2.svg
matt.cashatt@polyrific.com
2017-04-13 04:00:00
2022-12-06 15:35:30
Enterprise Wearables